Solo
This is a piece about transformation in which the performer pushes his boundaries both mentally and physically and the result is a vulnerable, narcissistic, and sometimes darkly humorous performance. The solo is based around a poem written by Suzie.
Nordic Warrior
Clinical Lycanthropy is defined as a rare psychiatric syndrome in which a person is under the delusion that he or she has transformed into an animal. The WolfMan believes that the Norse god Odin, associated with war, battle and death, has selected him as one of his warriors. Harald l of Norway, who was favoured by Odin, had a company of Ulfhednar, fighters dressed in wolf hides, who channelled the spirits of wolves to enhance their effectiveness in battle. These warriors killed viciously and were resistant to pain, much like wild animals.
Part of the poem
WolfMan/Lycanthropy
by Suzie Davies
Can´t you hear it?
That wolfs cry
A lonely howl raised to the moon
Rotating in an ashen makeshift circle
This is not a European delusion
But an honoured transformation
A forcible lunar occurrence
Fully illuminated by the sun
A bite from a rabid disciple
And I become a Hound of God
When the tides are high my fingers curl
My teeth display a dampened pink
A thickened brow preserves my eyes
A bristled tongue rips filth from prey
I am Wer, a man, a beast
A rogue wolf sent to guard the sheep
A 40 or 20 minute performance about one mans battle with the supernatural, mythical affliction, lycanthropy, in which people are said to physically shape-shift in to wolves.
Choreography
Suzie Davies
in collaboration
with Mattias Ekholm
Space/Light
Sigve Sælensminde &
Martin Flack
Stage Technique
MaSi &
Ingeborg S.Olerud
Co-producers
Karen Foss Quiet Works
Carte Blanche
Premiere
August 2011
Scenehuset, Oslo
Supported by
Norsk Kulturråd
(The Arts Council Norway)
Fond For Lyd og Bilde
(The Fund For Sound and Image)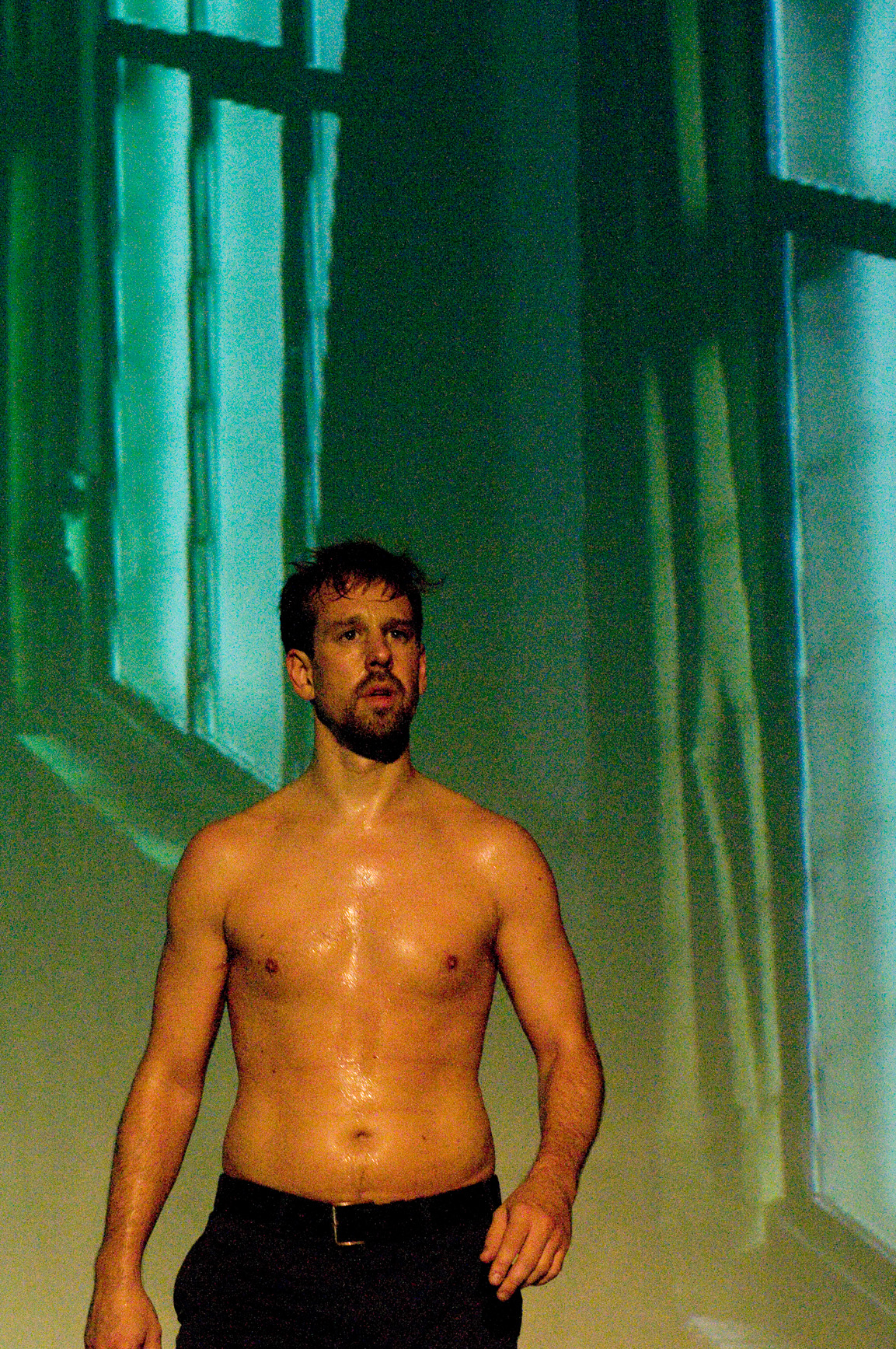 Photos MARIT ANNA EVANGER
Wolfman/Lycanthropy at Scenehuset, Oslo 2011